2019 Product Catalog
Our 2019 catalog is available for download. We've added over 600 new products!
3D Models & 2D Drawings
We have models and drawings available for thousands of our products!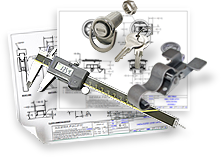 Custom Engineering
Do you have a projects that requires custom engineering solutions? Let us know how we can help.
Dependable Access Hardware Products
We have been a preeminent industrial access hardware manufacturer for more than 30 years, and our catalog offers more than 4,000 access hardware products. Our products play integral roles in electronic enclosures, crates and cases, sheds, trucks, trailers, RVs, spray booths, and many other industrial applications. We offer a diverse array of access hardware solutions, including:
Door Holders

Tie-Downs

NEMA and JIC-Compliant Hardware

Folding Steps

Spring-Loaded Clips
DISCOVER THE SPEP DIFFERENCE
Hinges, Latches, & Custom Engineered Hardware
At Sierra Pacific Engineering and Products (SPEP), we proudly manufacture high-quality industrial hardware both for OEMs and hardware distributors. We offer a diverse array of access hardware products used in a variety of industries, often working to produce custom designed and engineered hardware for our clients.